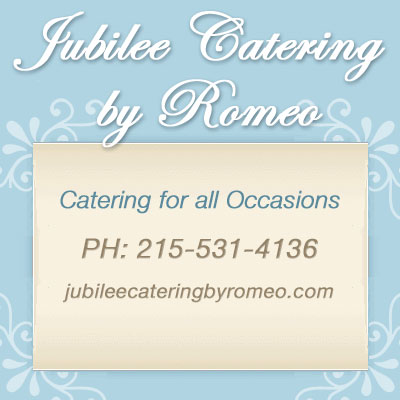 Jubilee deli menu is a wonderful selection of down home deli fair. This combination of home made delectables makes a great choice for association meetings, picnics, family gatherings, luncheons and bus trips. Call to create your individualized Deli Package!
Salads
Garden salad, Caesar salad, Homemade potato salad, Cole slaw, Macaroni salad, Shrimp salad, Jubilee salad, chicken salad, Pasta salad w/fresh vegetables, tomato and fresh mozzarella, Tomato basil and onions, spring mix with goat cheese, walnuts and cranberries
Wraps
Roast Turkey and cheese with seasoned olive oil or mayonnaise
Roast turkey Caesar wrap
Ham and cheese with seasoned olive oil or mayonnaise
Tuna plain or Tuna with cheese
Grilled Chicken Caesar
Roast beef and provolone with honey Dijon horseradish sauce
Buffalo style chicken wrap with crisp romaine lettuce and croutons
Corned beef special wrap
Our wraps are made with plain, wheat, spinach and sundried tomato soft tortillas
Hoagies
(Our hoagies are made on seeded or plain French bread)
Turkey and cheese
Ham and cheese
Italian
Chicken cutlet
Tuna plain or with cheese
Vegetarian
Gourmet and Deli Sandwich
Chicken cutlet with roasted peppers and provolone cheese
Chicken cutlet broccoli rabe and provolone cheese
Italian Tuna with Roasted Peppers and provolone cheese
Smoked ham, turkey and cheese Dagwood with chipotle mayonnaise, on multi grain bread
Pastrami and cheese with grain mustard, on rye bread
Chicken salad sliders, tuna salad sliders, egg salad sliders
Corn beef special
Turkey special
Pastrami special
All specials are served on rye bread with Cole slaw and Russian dressing
Dessert Options
Cookies, Cake, Pastries, Homemade Desserts
Coffee/Tea/Soda, Bottled Water
Our deli package is affordably priced according to your needs and menu selections!