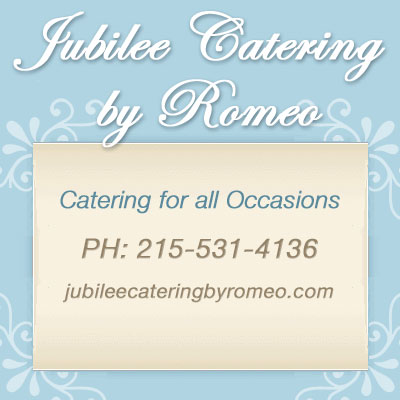 Reception Hour
A Wonderful Assorted display of Chef Selected Stationed and Buttered Hors D' Oeuvres
Pre-Set Salad
You're Choice of Salad Pre-set at each Place Setting
Garden – Caesar – California spring mix
Jubilee salad – Mixed lettuce, tomatoes, chopped artichoke hearts, onions, Cannellini beans, assorted olives, fresh mozzarella house dressing
Pasta Selection
(Choice of one)
Cheese Ravioli – simmered in homemade tomato sauce
Homemade Cavetelli – finished with Fresh garlic
Baked Ziti – baked with three cheeses and tomato sauce (roasted tomato sauce w/ fresh basil olive oil & cheese)
Stuffed Shells – ricotta filled shells finished in tomato sauce
Tortellini – peas and smoked ham Alfredo
Orecchietti & Sausage – sautéed in oil and garlic and fresh
Rigatoni Bolognese – simmered in tomato meat sauce, broccoli rabe' and grated cheese
Penne alla vodka – penne and creamy cheese blush sauce
Classic Entrees
(Choice of three)
Chicken Marsala
Stuffed flounder with Crab Meat
Chicken and Shrimp Scampi
Chicken Pizziola
Veal Scaloppini
Chicken cordon Bleu
Chicken Parmigiana
Veal with mushrooms and onions
Stuffed chicken
Chicken scaloppini
Sausage Scaloppini
Vegetable beef stir fry
Chef's Signature dishes
Oven Roasted Sliced Pork Loin – Smothered in natural gravy
Pan seared Atlantic salmon – topped with a crab meat cream sauce and fresh herbs
Oven Roasted Filet Mignon – Medallions smothered in seasoned mushroom gravy
Seafood Jubilee – an assortment or shrimp, mussels, chopped clams simmered in a spicy marinara finished with peas and rice
Chicken Pistachio – a combination of caramelized onions, artichoke hearts, sundried and roasted tomatoes, in a pan sauce topped with crushed pistachios and melted cheese
Vegetables and Potatoes
(Choice of two)
Green bean almondine, mushroom & leek gratin, escarole and beans, brocoli souffle', risottto portabello, Green beans with sauteed onions and tomatoes / hand cut roasted mixed vegetables, Roast tomato orzo, Mixed vegetable gratin, Brown sugar honey roasted carrots, buttered brocolli parmisiano, Hari cot vert', Panko parmigiano Potatoes, Oven roasted potatoes, potato au gratin, cheddar bacon and onion potatoes, Sweet potato honey brown sugar, Mashed potatoes [choice of: plain, garlic, mushroom, scallion ,or sundried tomato infused]
Chef Selected Dessert Table
A Wonder full Variety of Chef Selected Cakes Pastry Cookies
Coffee/ Tea/Soda
$37.00 Per Person, plus applicable sales tax
Our package includes:
Full line Buffet prepared from the freshest homemade ingredients
5 hours of service > Buffett servers > Linen table cloths and napkins > China > Silver
Jubilee provides you with quality food, excellent service, reasonable prices & no extra service or Gratuity charges.
Set up and clean up included!
Pricing for this package is for a minimum of 100 people!
Jubilee turns no one away! A special package can be created for smaller parties!