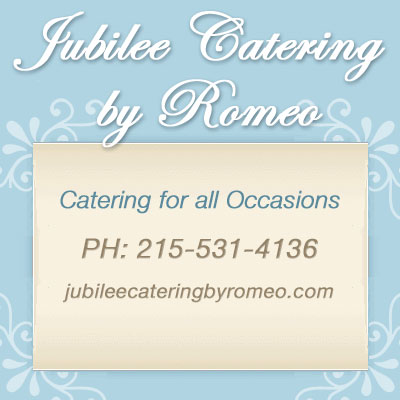 Jubilee supreme is the perfect option for those who want to impress their guest. Jubilee supreme offers Versatility, Variety, and Quality, for any type of occasion, and can serve as a gorgeous buffet, Fancy sit down affair, or an Intimate dinner at any Venue or Home.
Reception Hour
A wonderful arrangement of Buttlered Hors d' oeuvres and appetizer stations.
Chef Romeo will personally sit down with you to create the perfect reception and affair to remember!
Salad Selections
Garden – fresh lettuce tossed with tomatoes cucumber olives croutons and our creamy Italian Dressing
Caesar – crisp romaine lettuce tossed in our creamy Caesar dressing and garlic croutons with grated Parmigiano cheese
Grilled chicken Caesar – Plump Breast of grilled chicken and crisp romaine lettuce tossed in our creamy Caesar dressing and garlic croutons with grated Parmigiano cheese
Tri color pasta salad – a combination of fresh mixed vegetables tri color pasta virgin olive oil and Parmigiano cheese
California Spring Mix – tossed with a house made dressing of seasoned diced tomatoes, onion and balsamic vinegar
Tomato Salad w/ Fresh Basil, Mint & Olive Oil
Ensalata Caprese – Plump tomatoes and Fresh Mozzarella, Olive Oil & Basil
Jubilee Salad – a blend of lettuces, tomatoes, chopped artichoke hearts, onions, cannellini beans, assorted olives fresh mozzarella Cheese virgin olive oil and balsamic vinegar
Spinach – fresh baby spinach with bacon, hardboiled egg,walnuts, olives, croutons, dried cherries, goat cheese and raspberry dressing
Tortellini salad – cheese filled tortellini tossed with mixed vegetables, olives, smoked ham, then finished with virgin olive oil
Chicken waldorf – oven roasted chilled chicken breast dressed with walnuts, grapes, apples and light salad dressing
Tai chicken – served with Asian vegetables and noodles tossed in a Tai dressing
Atlantic salmon – seared and Flaked tossed with grilled asparagus in our house dressing served over mixed greens
Entrees Selections
Baked ziti – pasta tossed in homemade tomato sauce with a blend of three cheeses baked until golden
Rigatoni Bolognese' – pasta simmered in a hardy tomato meat sauce then finished with Parmigiano cheese
Homemade stuffed shells – large shell shaped pasta stuffed with a ricotta cheese blend then baked in our homemade tomato sauce
Gemmelli – braded pasta lightly simmered with oil and garlic roasted peppers spinach tomatoes cheese and seasoned bread crumbs
Homemade Cavatelli – homemade pasta simmered in a fresh roasted plum tomato sauce olive oil, garlic basil and freshly grated cheese
Homemade cheese ravioli – ricotta filled pasta topped with our homemade tomato sauce and cheese
Orecchietti – ear shaped past sautéed with broccoli rabe' Italian sausage olive oil garlic and cheese
Penne pasta – Simmered in tomato sauce then finished with Parmigiano cheese, Grated cheese
Cheese ravioli – in home made tomato sauce or vodka blush sauce
Pasta primavera – fresh pasta served with fresh vegetables in a creamy alfredo sauce
Penne pasta – with tomato sauce or oil and garlic
Tortellini alfredo – fresh cheese filled tortellini finished in a creamy alfredo sauce
Tortellini – with smoked ham peas and creamy alfredo sauce
Penne and smoked atlantic salmon – served in a roasted red pepper cream sauce
Chicken parmigiano – Chicken cutlet lightly breaded and fried smothered in tomato sauce and two cheeses
Chicken scaloppini – Medallions of chicken simmered in homemade tomatoes sauce with peppers mushroom and onions
Marinated grilled Chicken Breast – chicken breast seasoned with olive oil and herbs then lightly grilled
Honey Dijon Chicken – Marinated Dijon chicken breast seared then oven roasted till tender
Chicken Madeira – braised filet of chicken simmered in a Madeira wine sauce with onions sundried tomatoes gourmet olives and mixed mushrooms
Breaded Fried chicken cutlet – smothered with broccoli rabe' and melted provolone cheese
Chicken Sorrento – Medallions of chicken sautéed with smoked ham fresh tomato and sage in a white wine butter sauce finished with melted cheese
Chicken Pistachio – chicken breast sautéed and simmered with caramelized onions artichoke hearts sundried and roasted tomatoes finished with melted cheese gratin and a dusting of toasted pistachio nuts
Chicken Marsala – Plump chicken breast braised in a Marsala wine smothered with fresh mushrooms
Chicken Pizzaiola – breast of chicken simmered in a pizza sauce topped with melted mozzarella
Napoleon of chicken and egg plant – layers of chicken cutlet,eggplant, three cheeses and fresh tomato sauce baked until golden brown
Stuffed chicken breast – plump breast of chicken filled with a homemade vegetable bread stuffing oven roasted then finished with homemade chicken gravy
Chicken cordon bleu – breast of chicken layered with smoked ham and provolone cheese simmered in a natural chicken gravy
Entrees
Eggplant Parmigiana – Layers of eggplant tomato sauce and cheese baked until golden
Roast pork tenderloin – oven roasted pork loin sliced and finished with natural pork gravy
Lobster tails – broiled cold water tails drenched with lemon butter
Lump crab cakes – Lightly breaded,pan fried served with gherkin tartar sauce and tangy coktail sauce
Lump crab Galette – carefully blended with scallions and herbs,seared golden,finished with a tomato cream butter sauce
Shrimp and chicken scampi – a combination of plump chicken medallions and succulent shrimp simmered in a white wine garlic butter lemon sauce
Shrimp scampi – plump succulent shrimp sauted in a white wine garlic butter lemon sauce
Seafood Jubilee – a combination of shrimp mussels chopped clams peas and rice simmered in a tangy marinara sauce
Seafood pescatore – a wonderfull medley of shellfish simmered in a spicey red seafood sauce served over linquini
Spaghetti & Mussels red or white – mussels simmered in white wine sauce or seasoned marinara served over spaghetti
Flounder stuffed w/ crabmeat – rolled filets of flounder stuffed with crabmeat broiled in butter lemon and seasonings
Dijon crusted Atlantic salmon – fresh atlantic salmon painted with dijon mustard and dusted with seasoned bread crumbs broiled until golden brown
Pan seared Atlantic Salmon – pan seared salmon simmered in an herb cream sauce with fresh crabmeat
Veal scallopini – traditional scaloppini of veal simmered in a homemade tomato sauce with peppers mushrooms and onions
Veal medallians – smothered in a creamy mushroom sauce
Veal and crab meat – a combination of veal and crabmeat simmered in a creamy sherry wine sauce topped with melted cheese
Classic Pepper steak – medallion of top sirloin of beef simmered in an Asian wine sauce with peppers onions and mushrooms
Filet mignon served many ways
Individual cut pan seared and finished in a mushroom wine sauce
Marinated in seasoned olive oil and slowly char grilled
Char grilled and finished with a smoked onion horse radish cream sauce
Pepper crusted filet roasted and finished with a rosemary infused Jus de viande
Medallions of tenderloin roasted and finished with muchrooms and onions
New york strip – Individual cut oven roasted smothered with braised onions and mixed mushrooms finished with a light pan gravy
New york strip – Marinated in seasoned olive oil and slowly char grilled
Vegetables and Potatoes
Green bean almondine, mushroom & leek gratin, escarole and beans, brocoli souffle', risottto portabello, Green beans with sauteed onions and tomatoes, hand cut roasted mixed vegetables, Roast tomato orzo, Mixed vegetable gratin, Brown sugar honey roasted carrots, buttered brocolli parmisiano, Hari cot vert', Panko parmigiano Potatoes, Oven roasted potatoes, potato au gratin, cheddar bacon and onion potatoes, Sweet potato honey brown sugar, Mashed potatoes [choice of: plain, garlic, mushroom, scallion ,or sundried tomato infused]
Dessert options
Cakes Cookies Pastries and homemade Desserts
Coffee, Tea, Soft, Drinks, Water
Choose from one to several menu items to create the perfect affair.
Our Supreme package is priced according to your needs and menu selections!