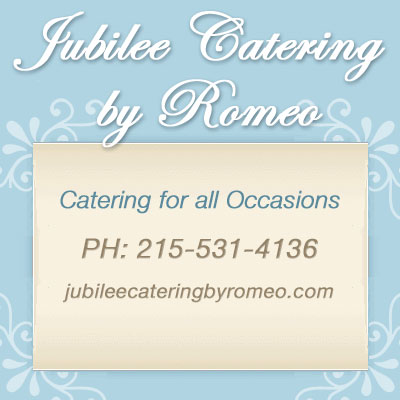 Salad
(Choice of One)
Garden – Caesar – Pasta – Potato –Tomato & Onion
Entrees
(Choice of Three)
Homemade!
Roast Beef
Roast Pork
Baked Ham
Chicken Scaloppini
Chicken Parmigiana
Grilled Honey Dijon Chicken
Marinated Grilled Chicken Breast
Chicken Marsala
Mussels (Red or White)
Turkey Breast
Stuffed Shells
Roast Pork Tenderloin w/ Natural Gravy
Meatballs
Chicken Pizziola
Rigatoni Bolognese (Tomato Meat Sauce)
Sausage Scaloppini
Pepper Steak
Italian Roasted Chicken on the Bone
Sausage & Peppers
Cheese Ravioli
Penne Pasta w/ Tomato Sauce
Mushrooms & Onions
3-Cheese Baked Ziti
Stuffed Flounder w/ Crabmeat
Chicken Florentine
Chicken Cutlet w/ Broccoli Rabe
Honey Dijon Chicken & Provolone Cheese
Rolls Included!
Vegetables and Potatoes
(Choice of Two)
Honey Glazed Carrots
Potatoes Au Gratin
Spinach Aglio Olio (Oil & Garlic)
Green Bean Almondine
Mashed Potatoes
Mixed Vegetables in Butter Sauce
Green Beans Marinara
Roasted Garlic Mashed Potatoes
Peas & Mushrooms
Roasted Potatoes
Broccoli w/ Cheese Sauce
Corn in Butter Sauce
Dessert Table
Pastries – Fruit cocktail – cookies-coffee – tea
$26.00 per Head, Plus applicable Sales Tax
Our Package Includes:
Full line buffet prepared from the freshest homemade products!
Air conditioned, handicapped accessible, Charming Banquet facility with ample off street parking!
4 hours of service > Banquet servers> soda >ice >cups >linens >china>silverware
Clean up included!
Jubilee provides you with quality food, excellent service, reasonable prices & no extra service charges.Pricing for this Package is for a minimum of 75 people.Jubilee turns no one away! A special package can be created for smaller parties!