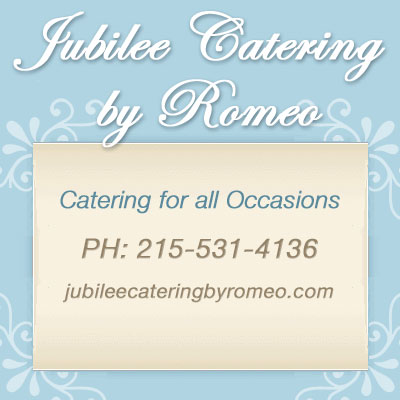 Reception Hour
A Wonderful Assorted Display of Chef Romeo's Selected Hors D' oeuvres
Salad
(Choice of Two)
Garden
Caesar
Tri color Pasta salad
California Spring Mix – (Seasoned diced tomatoes, onion and house blend dressing)
Tomato Salad w/ Fresh Basil, Mint & Olive Oil
Tomato Salad w/ Fresh Mozzarella, Olive Oil & Basil
Jubilee salad – (Mixed lettuce, tomatoes, chopped artichoke hearts, onions, Cannelli beans, assorted olives, fresh mozzarella in our tosses in our house dressing)
Pasta Selection
(Choice of One)
Cheese Ravioli – Simmered in Homemade Tomato Sauce
Homemade Cavetelli – Finished with Fresh garlic, roasted tomato sauce w/ fresh basil olive oil & cheese
Baked Ziti – Baked with Three Cheeses and Tomato Sauce
Stuffed Shells – Ricotta filled shells finished in Tomato Sauce
Tortellini – Peas and Smoked Ham Alfredo
Orecchietti & Sausage – Sautéed in oil and garlic and fresh  Broccoli rabe and grated cheese
Rigatoni Bolognese – Simmered in Tomato Meat Sauce
Pasta Primavera – Vegetable Cream Cheese Sauce
Entrees
(Choice of Three)
Classics
Honey Glazed Baked Ham
Chicken Marsala
Stuffed Flounder with Crab Meat
Pepper Steak over Rice
Chicken Pizziola
Mussels – (Red or White)
Chicken Parmigiana
Veal Scaloppini
Stuffed Chicken Breast
Italian Roasted Chicken on the Bone
Sausage Scaloppini
Chicken and Shrimp Scampi
Honey Dijon Chicken Breast
Chicken Scaloppini
Herb Grilled Chicken Breast
Chefs Signature Dishes
Oven Roasted Sliced Pork Loin – Smothered in natural gravy
Pan seared Atlantic salmon – topped with a crab meat cream sauce and fresh herbs
Chicken Rollentini – stuffed with a vegetable bread stuffing finished in a light pan sauce
Oven Roasted Filet Mignon – Medallions smothered in seasoned mushroom gravy
Seafood Jubilee – an assortment or shrimp, mussels, chopped clams simmered in a spicy marinara finished with peas and rice
Chicken Pistachio – a combination of caramelized onions, artichoke hearts, sundried and roasted tomatoes, in a pan sauce topped with crushed pistachios and melted cheese
Vegetables
(Choice of One)
Honey Glazed Carrots
Oven Roasted Potatoes
Sweet Potatoes with Brown Sugar and Honey
Green Beans Almondine
Mashed Potatoes
Mixed Vegetables with Butter Cheese & Bread Crumbs
Broccoli Soufflé
Garlic Mashed Potatoes
Green Beans with Sautéed Onions and Tomatoes
Spinach Oil and Garlic
Potatoes Au Gratin'
Home Style Niblet Corn in Butter
Sweet Potato Casserole
Southern Style Corn Pudding
Chef Selected Dessert Table
A Wonder full Variety of Chef Selected Cakes Pastry and Cookies
Coffee and Tea
$35.00 per head, plus applicable sales tax
Our Package Includes
Full line Buffet prepared from the freshest homemade products!
Air conditioned, handicapped accessible, Charming Banquet Facility with ample off street parking!
5 hours of service > Buffet Servers> Bartenders > drink mixers > soda >ice >cups >Linens> China> Silverware> Glassware!
Jubilee provides you with quality food, excellent service, reasonable prices & no extra service charges.
Clean up included!
Pricing for this package is for a minimum of 100 people!
Jubilee turns no one away! A special package can be created for smaller parties!